I placed my purse under the table, Bible next to the coffee pot, laptop on a chair then propped reading glasses on my head. It was Tuesday morning, which meant Bible Study in the sunroom at Mary Jane's farm, and I was the note-taker. Those who wanted coffee helped themselves and perhaps sampled one of the treats Mary Jane provided.
Before our leader rang the school bell—all in good fun— to bring us ladies to order, Mary Jane rolled her wheelchair from the kitchen foyer, where she'd greeted us, into the sunroom. With coffee in one hand and Bible in the other, she was ready to grow in the Word.
For the past ten of twenty years, Mary Jane had hosted the Women's Bible Study group in our community. Juvenile diabetes had taken her legs, and she was a little less mobile. No problem. She loved company—and parties, the more the merrier! Mary Jane had the gift of hospitality and knew how to fare well, and so did her children. Two years ago, they had surprised their mother with a barbecue out on the lawn to celebrate her eightieth birthday with family, friends, and neighbors. A legendary celebration.
At the end of the Bible Study lesson, I recorded prayer requests, including Mary Jane's. Hers always came with stories—about growing up in the area, her faith, adventures, concern for others, joys and losses. She was an artist, farmer, real estate agent, and a character. The Grand Dame of the County who loved the Lord. "As a matter of fact," she'd say then quote John 3:16.
For God so loved the world that he gave his one and only Son, that whoever believes in him shall not perish but have eternal life.
Last Thursday morning, Mary Jane greeted the day, took a breath, and quietly passed into eternity. "…no more wheel chair, no more illness, no more sorrow," our Bible Study leader wrote in an email, informing us of Mary Jane's passing. "Oh, how we will miss our sweet sister…I am so sad for us but so happy for her. She loved our Jesus so much, and now she has met Him face to face."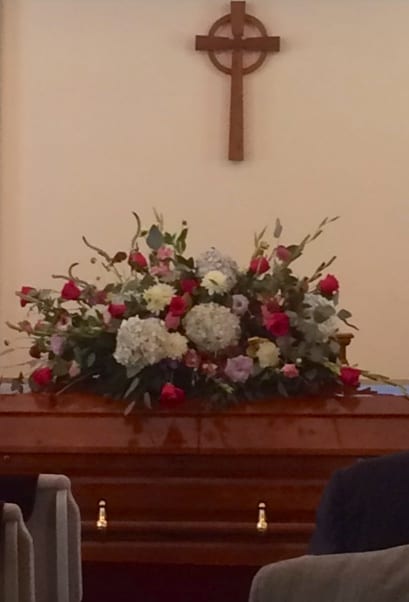 Today, several Bible Study members sat together, not in the sunroom but in church, saying goodbye to our sister in Christ. During the reflections, Mary Jane's best friend recounted a few of their past adventures. "Despite her diabetes, she never asked, 'Why me?'" her friend said. Mary Jane lived life with grace, forgiveness, and a twinkle in her eye. She fared well despite illness and loss from outliving friends, two husbands, grandson, and daughter.
The church was packed upstairs and down. Some of the grandchildren had designed hand-held fans for everyone, rectangles of glossy paper folded over and glued to large popsicle sticks. On the front was a print of one of Mary Jane's paintings: a woman wearing a feather-print coat and holding a bouquet of red flowers. A smiling self-portrait with a story, of course. On the back was one of Mary Jane's favorite verses, Psalm 91:4. He will cover you with his feathers. He will shelter you with his wings. His faithful promises are your armor and protection. Her love of the Lord passed on to the next generation, the next, and the next.
Our Bible Study group will find another place to meet. We'll fare well and keep our love of the Lord alive. And the legacy of our sister in Christ.