Good morning, yesterday
You wake up and time has slipped away…
After several days of rain, Keith and I woke this morning to sunshine and spring-green stretching across the Rockfish Valley. Through our open window, I heard bird calls and echoes from dogs barking. Sights, sounds, and the smell of brewed coffee captured and held my thoughts firmly in the present.
And yet.
As I sipped my coffee and scrolled through headlines, many with images of this past weekend's royal wedding, time slipped away. Weddings, birthdays, graduations.
Remember, do you remember
The times of your life?
This week marks my daughter Jessica's birthday and her daughter's, too. She and my granddaughter live half a world away, but thanks to various technologies, I can view pictures of sweet Abigail, sitting her mother's lap, birthday cake smeared on her face—a one-year-old's way of enjoying cake. Abigail is close to walking, Jessica said.
Walking. Exploring.
The lyrics to Paul Anka's 1975 pop tune scrolled across my mind. Reach out for the joy and the sorrow… The laughter and the tears… Joy when our children figure out how to do something and sorrow when they fall.
I climbed the stairs and pulled one of Jessica's photo albums from my memory closet. Jessica walking at Abigail's age. Ah, she and I were so young, and the technologies in the background—a 13" rabbit-eared color TV and audio tape deck—now passé.
The shadows of misty yesteryears…
Gather moments while you may
Collect the dreams you dream today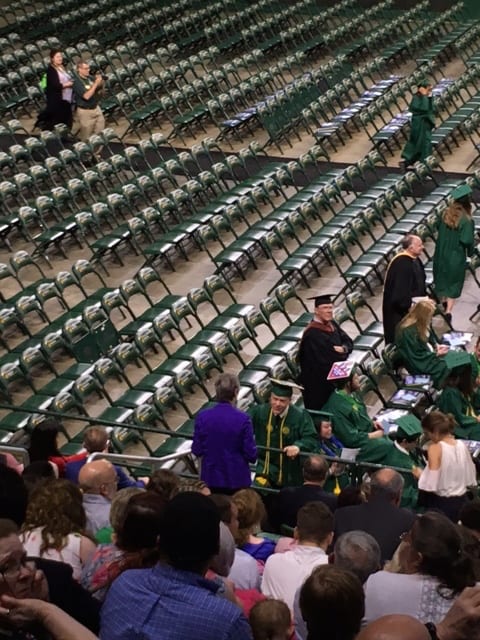 Last Friday afternoon, I raced down one of the stairways in George Mason's EagleBank Arena, scene of the University's graduation. Alex leaped from the stadium floor onto the railing so I could hug him and take his picture up close. Although I took many pictures of my children growing up, I missed many times in Alex's life—he is Keith's son and my blessing by marriage. But surely, we'll remember this day, from a distance, me in my purple jacket and he in his green cap and gown.

Remember, will you remember
The times of your life?