Last month's killing frosts had rendered our meadow plants dormant. It was time to mow before snow arrived. On Saturday morning, Keith fueled and started the gas-powered weed-whacker for me then held it while I donned ear and eye protections and adjusted the shoulder harness.
I love chores like this: the ones that show, the ones waited for and anticipated, the ones that involve change.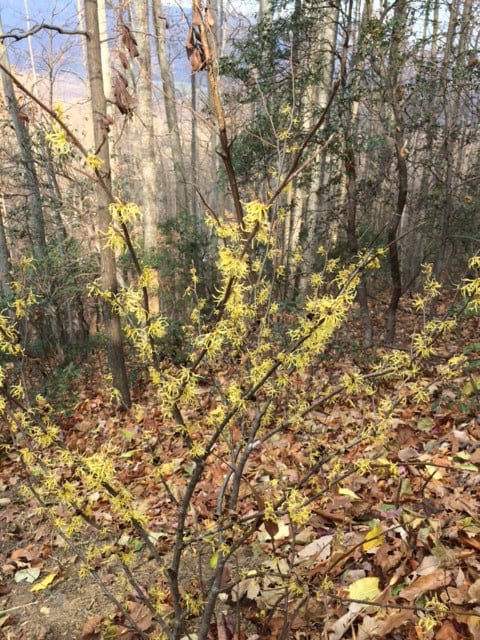 With sweep motions, I cut the tall grasses along the meadow path—Appalachian Sedge, River Oats, Tufted Hair Grass, Virginia Wild Rye, Switch and Beard Grasses. Then off to the side near the forest edge, I saw it: Hamamelis virginiana, a gloriously blooming witch-hazel.
Winter bloom.
Witch-hazels are small deciduous trees native to this area. The name "witch" derives from the Old English words for "pliant" or "bendable," referring to the plant's twigs used as divining rods, thus the mystique. Today, except in woodland settings like ours, the intricate, bright yellow blossoms of H. virginiana are an uncommon sight, so this was a treat.
Yesterday was the first day of Advent, the season of waiting and anticipation. Sometimes with all the hustle and bustle of events jamming our schedules, it's hard to remember that Christmas is about faith building, a time involving change. Yet among the flurry of those activities are opportunities for us to prepare for what's coming.
Late yesterday afternoon, Keith and I attended the Nelson County Community Orchestra's Holiday Jubilee. Two-dozen adults, most retirees returning to their instruments after many years, played excerpts from Bach, Handel, Vivaldi, and Tchaikovsky—The Nutcracker—and other popular favorites: Sleigh Ride and Jingle Bells. The latter included the String Education Program students, children attentively plucking and bowing their instruments.
Spring, summer, fall and winter playing together.
My favorite piece was Appalachian Carol, featuring the Irish tin whistle played by a woman who'd ordered the instrument on e-bay and taught herself to play. As the haunting sound filled the Rockfish Valley Community Center's auditorium, tears welled in my eyes and I took Keith's hand. This was an uncommon treat.
I love events like this: the ones that show the spirit of Christmas, the ones we wait for and anticipate, the ones that involve change.
The glorious winter blooms of birth and rebirth.