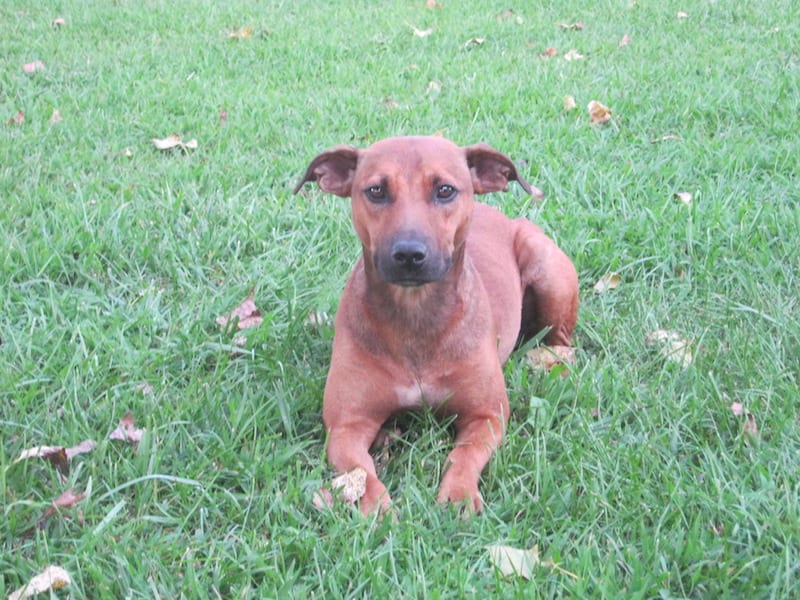 Remember me? My name is Pullo, but it used to be The Abandoned Dog Who Showed Up At Kim and Margaret's Farm. Kim is Keith's brother, and Carole wrote about me and took my picture when she and Keith found me while visiting Kim and Margaret back in August. I'm a German shepherd/beagle mix, and I was starving.
They all fed me then Kim and Margaret adopted me. Now I follow Kim around the farm every day. He's taught me to sit, shake paw, and go find Margaret. Finding Margaret is my favorite thing because she feeds and pets me. My tail wags in circles when I'm with her.
I didn't know how this was going to go, but I'm very happy.
Remember us? We're Heathcliff and Freya and live with Keith and Carole.
I'm Heathcliff, the black-lab-mixed-with-something-big, and I'll go first. A few weeks ago, Carole and I were walking up the mountain road after retrieving the mail when suddenly I sensed something behind me. I whipped around and guess what? It was another dog, a girl. Well, the girl dog took off back down the road, and so did I. Carole ran, too. I think she was shouting something, but I ignored her.
The girl dog, a hound/beagle mix, met her mistress on the road near the bottom of the mountain. The lady put the girl dog on leash, and Carole grabbed mine. I wanted to do the sniff-greeting thing with the girl dog, but she kept backing away. Carole said, "Dude, you're clueless, you're scaring her," but I ignored her because I know how this goes.
Once I had enough greeting, I found other smells to sniff. The girl dog and her mistress took a short cut back to the main road, and Carole and I walked back up the mountain to the house. Even though my tail sagged as we climbed the last hill, the adventure was worth it.
Okay, my turn—I'm Freya, the mixed-German shepherd. I'm a good girl except when I get dirty. Two weeks ago, I was running after some critters in the woods and came home all wet and muddy. Carole gave me a shower, but two days later an itchy rash and scratches broke out on the side of my face and neck.
Off to the vet we went. I love going to the vet because they pet and give me treats. The vet said I had a "hot spot" caused by who knows what—chiggers, ticks, fungus, or bacteria. They shaved my "hot spot," and I was such a good girl, much better than Heathcliff. He's clueless.
Carole gives me pills before mealtimes now, and I feel much better. Here I am with my collar back on, lying in Heathcliff's favorite bed. He's on the other bed because I always beat him to his favorite then thump my tail.
I know how this goes.