Most residents of Saint Petersburg live in apartments, and many also own dachas or seasonal homes located in the exurbs, surrounding the city. But east-northeast of the city lies a vast region of lakes, rivers, and forest plains—a different world. Here are a few snapshots.
On the Svir River between Lakes Ladoga and Onega, there's a small village called Mandrogy. Destroyed in World War II, Mandrogy was rebuilt in the 90s as a museum of traditional Russian villages, a place of brightly painted wooden houses, costumed craftspeople, and farms. Thanks to a wealthy businessman and his government influence, all has been reproduced for historical, cultural, and commercial purposes. Mandrogy operates like a small, Soviet-era collective where families reside fulltime. Children attend a sponsored school in the nearby town of Pavlovsk.
I wondered how many children stay. Julia, one of our escort guides—She knew the marriage wasn't going to work—said she grew up in this region, Karelia, but left because there was nothing for her.
North, in the center Lake Onega, is Kizhi Island. Most Russia villages in this area disappeared in the 1950s. To preserve Karelia's historical wooden buildings, more than 80 structures were moved to Kizhi, another open-air museum. In cold rain and driving wind, we walked among the buildings including a farmhouse where the family had lived alongside livestock through the long, Russian winters. Only a few adults live year-round on this isolated island.
"What would you like to do when you grow up," we asked thirteen-year-old Mikhail, living and attending school in Goritsy.
If not for a drive-by view of the Goritsky Monastery and tour of the Kirillo-Belozersky Monastery, we would not have stopped in Goritsky, along the Volga-Baltic Waterway. But the tour company arranged home visits and access to a school—and paid. Home-visit families earned money for extras like flat-screen TVs, and the school offered more up-to-date learning conditions, better chances for their students' higher education.
Mikhail's pants rode well above his ankles and his black suit jacket barely fit. His white shirt and red, clip-on bowtie brought smiles to our faces. "I'd like to study neuroscience at the Military University in Saint Petersburg," he said.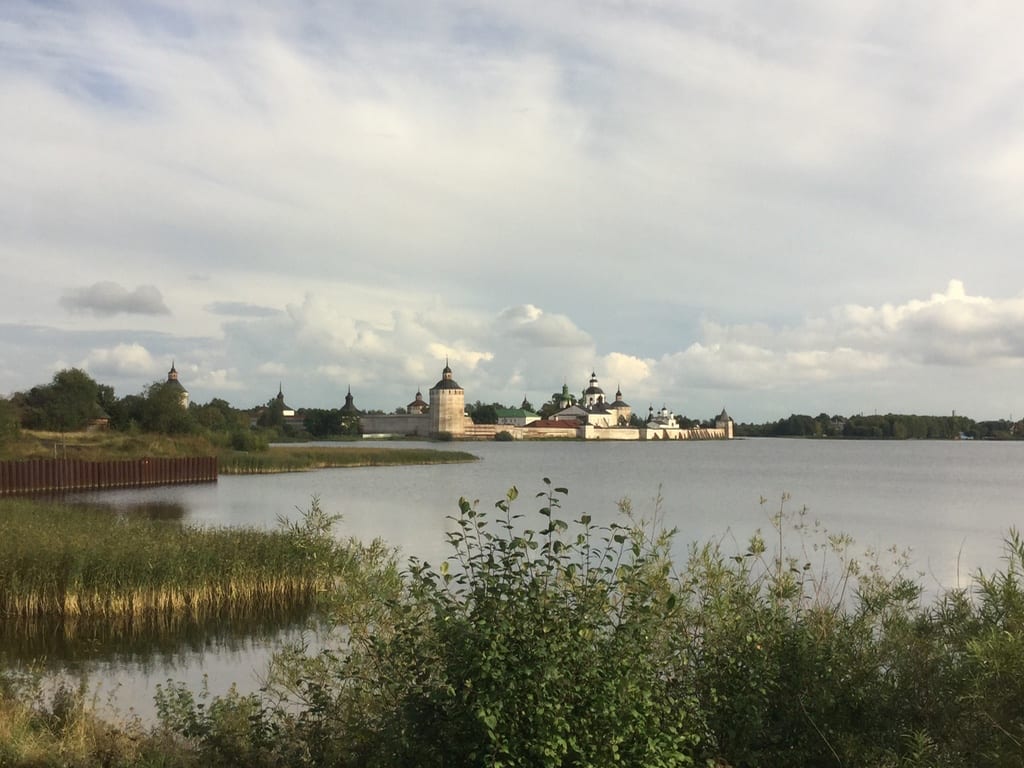 Near Goritsky, on the shores of Severskoye Lake stands Kirillo-Belozersky, looking more like a fortress than a monastery. Thick walls and towers protected a large community of monks and peasants from the 15th-17th centuries. Then in 1764, Empress Catherine the Great stripped the monastery of its lands and used parts of it for prisons. Closed by the Bolsheviks in 1924, the monastery today functions mostly as a museum. Only ten monks live in residence.
Up the Volga River in Uglich, population about 35,000, our pretty thirty-two-year-old tour guide—Which Story is True? You Decide—said she'd grown up in Uglich then attended school in Moscow. There she met her husband. "I don't like Moscow," she said, "the quality of life, the traffic. But that's where we're going to move, you know, for our daughter."
Next week, last stop, Moscow.