"Mawwiage. Mawwiage is what bwings us togethew today. Mawwiage, that bwessed awwangement, that dweam within a dweam. And wove, twue wove, wiww fowwow you fowevah and evah… So tweasuwe youw wove…" -The Impressive Clergyman (Peter Cook) who cannot pronounce "R's" or "L's" in The Princess Bride marriage scene.
The Princess Bride is a fairy tale about a beautiful young woman named Buttercup (Robin Wright) and Westley (Cary Elwes), the farm boy she orders around. "As you wish," he says to his one true love, a love she eventually reciprocates. Westley leaves to seek his fortune then returns to match wits with the evil Prince Humperdinck (Chris Sarandon) and to save Buttercup.
The "mawwiage" scene quoted above is between Buttercup and Humperdinck.
"Wait, wait, that's not what's supposed to happen," the boy (Fred Savage) says to his grandfather (Peter Falk) who is reading The Princess Bride book to his grandson. "Buttercup is supposed to marriage Westley." The bedtime story scenes both frame and, as in this case, occasionally interrupt the movie.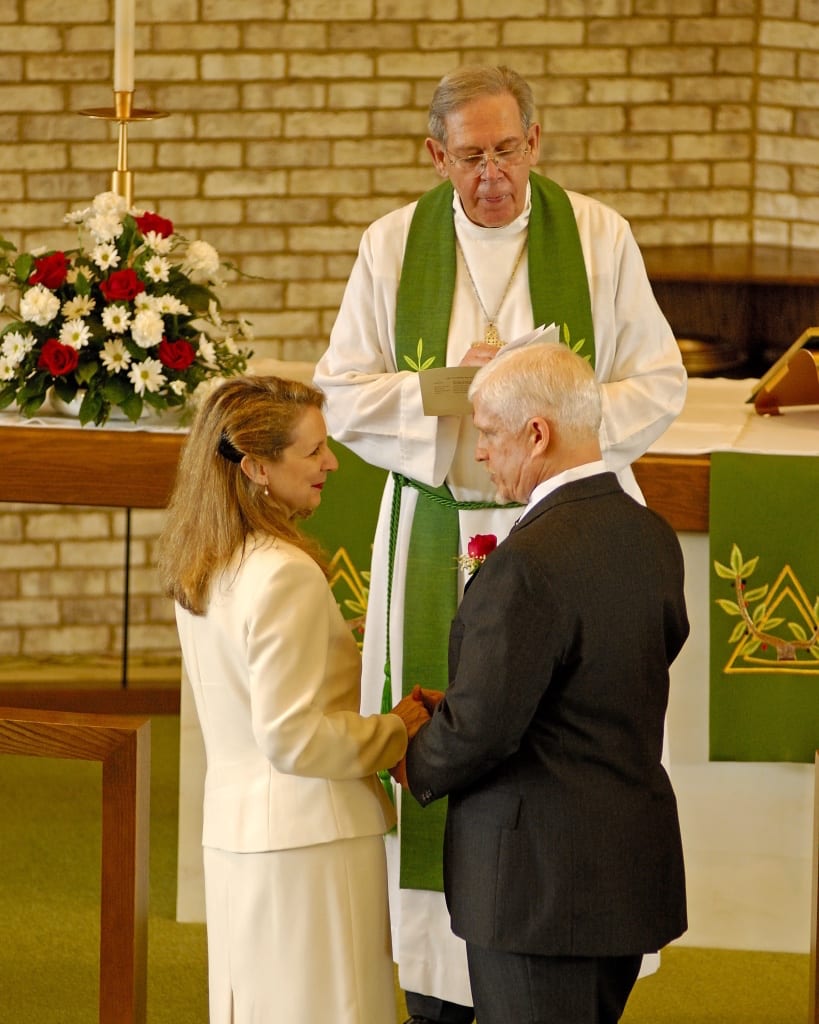 The story ends happily ever after, unrealistic yet hopeful. Though the enemies of Buttercup and Westley were defeated, relationship trials are likely ahead. "Mawwiage" is not for the faint of heart, nor is re-mawwiage. Keith and I see our union as a blessed arrangement, which we treasure even during our "less than true love" moments.
In a post from January 2016, I quoted Richard Rohr's December 15, 2015 meditation:
"If you marry with any sincerity and are honest about relationship, you are giving up half of your egocentricity. If marriage doesn't convert you, these wonderful little beings called children often come along and take away your egocentricity for at least the next twenty years! That's why I think most people are called to marriage and child rearing. It's the surest path to death of the ego, if you really allow your partner and children to mirror you, revealing your ordinary and weak self, and also helping you to experience unconditional love. Life has a way of revealing that you are not the center of anything and forcing you to give up control. We must keep growing–and that always implies death to the previous level–which many just will not do. Again and again we must move beyond our narcissism."
During my recent visit to New York City, my son commented that Facebook posts show parents loving every moment of their children's lives. I laughed. "Children aren't that good," I said, "and neither are parents."
There were times when I got tired of reading the same book or viewing The Princess Bride for the umpteenth time. When my young children swam at the community pool or played outside, I couldn't do anything other than watch to make sure they didn't run into the road or drown. I dismissed boredom and fatigue because I loved my children, and I always will. I was incredibly blessed to have them.
The same can be said of God-sanctioned marriage—a blessing with moments of true love.
At the end of The Princess Bride, the boy asks his grandfather to read the story again the next day. The grandfather smiles and says, "As you wish."
Wove, twue wove.