The wind howled as I pulled into the Barracks Road parking lot in Charlottesville last Thursday afternoon, I told Keith at dinner that night. As I parked the truck, I heard the rattle and clang of a run-away grocery cart. The cart ricocheted off two on-coming cars, which almost collided, trying to avoid it, then rolled across the access road. It came to rest against a curb near a bank's drive-thru lanes.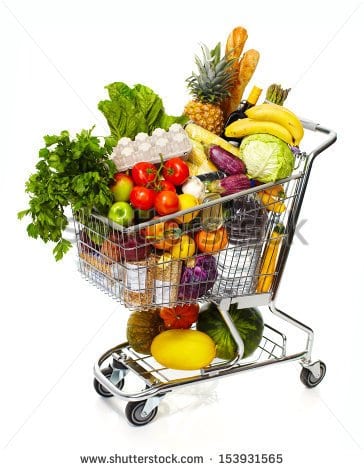 Once the coast was clear, I retrieved the wayward cart and, feeling like I'd done a good deed, rolled it into the grocery store. I checked my list and proceeded to the produce section. I picked up salad fixings—lettuce, tomatoes, cucumber, green pepper, and celery, I reported to Keith, and the asparagus looked good, broccoli, butternut squash, and sweet potatoes, too.
I'm sure Keith was impressed with my hunting and gathering skills.
Then I pointed the cart toward the back of the store to see if I could find Keith's pickled herring. I heard another noise and glanced back at a baby, sitting in a cart, and a young man, presumably the baby's father. He said, "Oh no."
"Oh my goodness, Keith, I just realized. The child had spit up—that's why the father said, 'Oh no.' I missed my chance to help," I said, "I was so distracted by my good deed and shopping mission, I totally blew it, how terrible!"
"Not terrible," Keith said, "it's a blessing because you have an opportunity to learn."
In her memoir Spiritual Misfit: A Memoir of Uneasy Faith, Michelle DeRusha recounted a time when she blew it. After a day "praising God left and right," she had tired. Her two young sons "got giddy as kids do when bedtime looms, wheeling around the living room like bumblebees on speed, ricocheting off furniture, bouncing on the couch like rubber superballs, and throwing Cheez-Its at each other." She morphed into a madwoman, rattling off lost privileges then dropped the boys, howling and sniveling, into bed. And burst into tears.
Her husband said, "Honey, it's okay. You can start again tomorrow; you did really well during the first part of the day, didn't you? It's not a complete loss."
No, it wasn't a complete loss because she learned to "take a mulligan," a technical term in golf meaning a do-over, an extra stroke not counted on the scorecard, a second chance. "Grace, it turned out, was like a mulligan," DeRusha wrote, "the chance to take another shot, to start over again."
In Richard Rohr's reflection today, guest writer Cynthia Bourgeault wrote about Father Thomas Keating teaching Centering Prayer. "In one of the very earliest training workshops led by Keating himself," Bourgeault wrote, "a nun tried out her first twenty-minute taste of Centering Prayer and then lamented, 'Oh, Father Thomas, I'm such a failure at this prayer. In twenty minutes, I've had ten thousand thoughts!' 'How lovely,' responded Keating, without missing a beat. 'Ten thousand opportunities to return to God.'"
Ten thousand mulligans.