On Christmas Eve Day, I felt a little blue. Maybe it was the rain and fog. Maybe I longed for Christmases past with my children, now adults with lives of their own.
Maybe I was just feeling sorry for myself.
Betsy Lerner's snarky humor spoke to me. "The holidays are really good for writers," she wrote in her Christmas Eve post. "They bring out our sense of alienation, isolation, aloneness… Melancholy sets in, or worse. Yes, this is our season!"
That's not how I wanted to spend this or any season. So I asked Keith if he would go with me to the 4:00 Christmas Eve service at church. He was more than happy to do so.
The sanctuary was packed. Families of one, two, three, and four generations lined the pews. Candlelight brightened the sanctuary. We sang carols: "Silent Night Holy Night," "O Holy Night," "Away in a Manger," "O Little Town of Bethlehem," "Hark! The Herald Angels Sing," "From Heav'n Above to Earth I Come," "Joy to the World," "O Come, All Ye Faithful," and "Go Tell It On The Mountain."
Pastor spoke about the arrival of the Messiah, Immanuel, God with us, the light shining in darkness. Some will remember losses during Christmas, he said. All of us tend to look for life in the wrong places.
"We believe that when people approve of us—then we'll really live. We believe that when we have enough money—then we'll really live. We believe that when we get control of situations and circumstances—then we'll really live. We believe that when we get that job, that raise, that promotion—then we'll really live. We believe that when we go on that vacation, experience that place, dine at that restaurant—then we'll really live."
Children wiggled and climbed into their grandparents and parents' comforting arms. The boy in front of us leaned across his mother's lap and fell asleep. Lessons and carols can tire one out.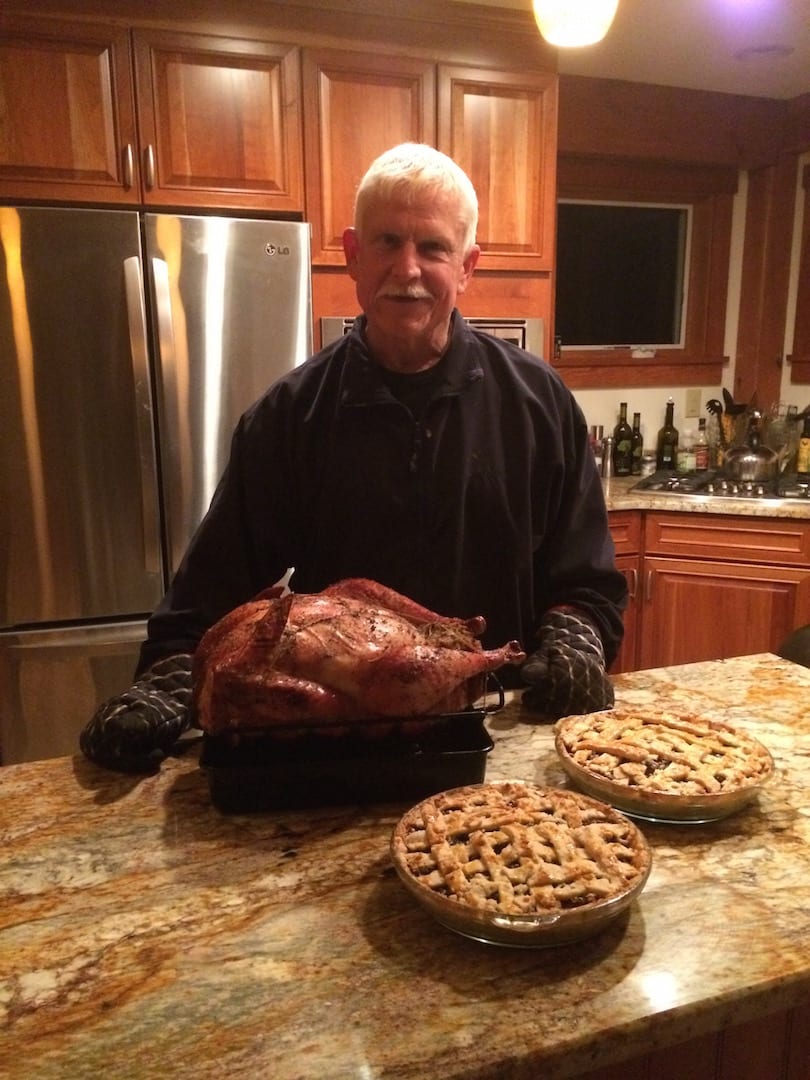 During the holidays, Keith and I attend parties and join friends for dinner. We welcome others here at Vanaprastha, too. But this year, it was just the two of us celebrating Christmas Day. I made scones—my first attempt—and Keith roasted the turkey and baked mince pies for dinner.
And we spent time in prayer.
In his December 22nd Wall Street Journal article, "Why This Rabbi Loves Christmas," Rabbi Michael Gotlieb wrote, "Like a brightly lighted Christmas tree, Christianity dispels a lot of darkness, theological as well as moral. In its glow, it challenges Christians and non-Christians alike to consider that which is transcendent, eternal and greater than us all. Merry Christmas indeed."
Indeed, a Blessed Christmas.