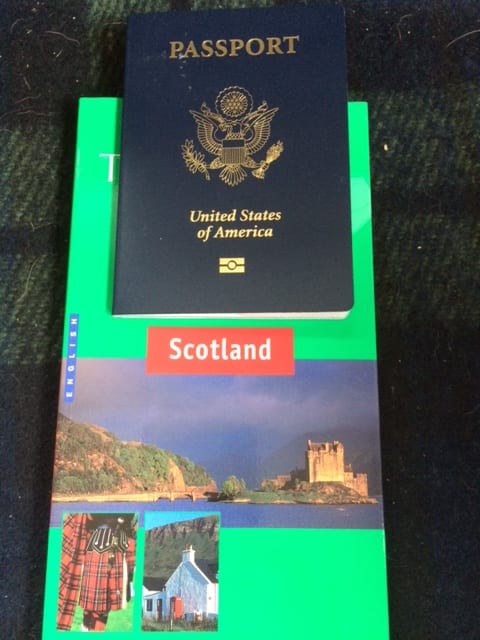 "You must be excited about your trip to Scotland," a friend said to me last week.
"To tell you the truth, I haven't thought about it much," I said, "which is strange because I've been wanting to go for years."
Anticipation.
The story goes that Carly Simon wrote her 1971 hit while waiting for a date with Cat Stevens. The song was so popular in the 70s and 80s that the chorus was used for Heinz ketchup commercials.
Anticipation, anticipation
Is makin' me late
Is keepin' me waitin'
This week, I've been wondering about my lack of excitement about the Scotland trip. Maybe it's because I'm looking forward to so many things in the next few months—seeing my daughter, visiting my mother, overseeing the new landscape installation here at Vanaprastha, attending a writing conference, completing another manuscript draft for review. Or maybe at some subconscious level, I'm worried that if I finally get what I want, I'll be disappointed, that the real thing will be less than I've hoped for all these years.
Expectation.
Maybe it's like waiting for Christmas, making a wish-list, wondering what Santa will put in your stocking and under the tree, hoping for wonderful things. When Christmas finally arrives and packages are unwrapped, then comes the let down. The holiday, the visits, the newness, the writing conference and project—over and done.
Anticipation means Expectation, which opens the door to my not-pretty shadow of Disappointment.
In his Sunday, October 11, 2015 reflection, Richard Rohr stated: "The shadow includes all those things about yourself that you don't want to see, are not yet ready to see, and you don't want others to see. Our tendency is to try to hide or deny this shadow part of ourselves, even and most especially from ourselves…" Then he observed, "The wild beasts and the angels reside in the same wilderness," the same shadow, referring to Jesus' forty days in the desert noted in Mark 1:13.
It occurred to me that I have a choice about my shadow self. I can choose to see it, not hide or deny. Then I can say, "No thank you" to the beast of disappointment and, "Yes please" to the angel of wonder.
On Facebook this morning, I read a quote attributed to Brené Brown with a picture of 70-year-old Helen Mirren. The post was addressed to "middle-aged" folks—yes, I 'liked' it. "Time is growing short," Brown said. "There are unexplored adventures ahead of you… Courage and daring are coursing through you. You were made to live and love with your whole heart. It's time to show up and be seen."
Carly Simon concluded "Anticipation" with, "These are the good old days…" My days are good because I anticipate adventures, expect joy and disappointment while living them, and love it all whole-heartedly, right now.
It's about time.
What are you waiting for?