One evening in the mid-90s, I sat in the balcony of McFarland Auditorium on the SMU (Southern Methodist University) campus in Dallas, listening to Paleoanthropolgist Donald Johanson. Back in the 70's, Johanson had discovered the hominid fossil of an australopithecine he named "Lucy." Twenty years later, he was on the lecture circuit, promoting the PBS Nova series, In Search of Human Origins.
"What I say tonight is based on what we know at this moment. Tomorrow, a discovery could change our understanding of everything. Even something millions of years old." It's my understanding that Johanson does not believe in God. But I believe in gathering lessons wherever and whenever they appear.
It's time to spring clean, to sweep up, suck up, and wipe up the past several months of tracked in dirt, fireplace ash, and anything shed by the dogs or us. I rather like washing up the beds, vacuuming and running the swiffer around, what my mother used to call "lick and a promise" cleaning. It's easy.
And it shows.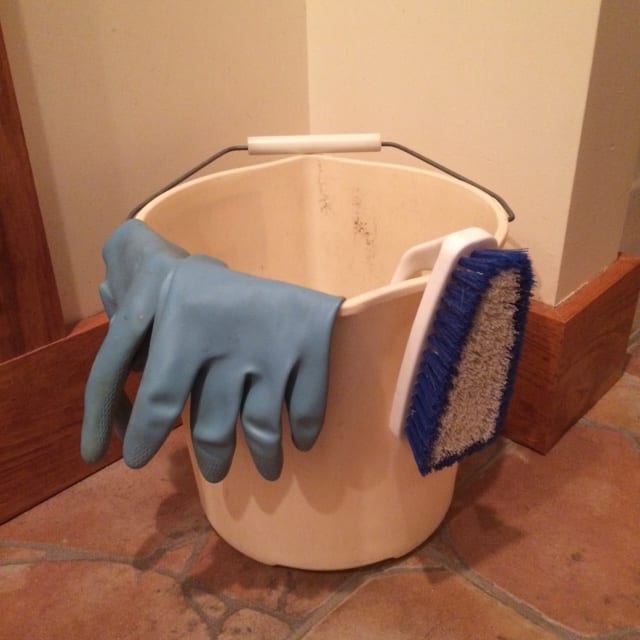 Unfortunately, scrubbing and dusting don't show. So I procrastinate. And that shows, too. Only when tumbleweeds of dirt escape from under beds and closet corners, and I can write a novel in the dust accumulated on bookshelves, do my elbows and knees get involved. But I gripe while doing that kind of work, and my verb and nonverbal whines that don't go unnoticed.
Years ago, after my father had a stroke, after I decided to believe in God, and after I heard Johanson's talk, I learned this trick. None of these events were connected. But I drew lessons from each source and synthesized.
For the ten years he lived after his stroke, my father couldn't take care of himself let alone anything else. He would have loved to be able to mow the grass, chop wood, and shovel snow. My father taught me gratitude for being able to do physical work. Then God taught me humility, to get down on my knees. And Donald Johanson taught me about changing my mind.
Now that I'm older than my father was when he had his stroke, whenever I get cranky about scrubbing or dusting, I sing this prayer set to whatever tune rolls around in my head:
Thank you, Lord, for blessing me with health and strength for every day.
Thank you, Lord, for blessing me with a house in which to do Your work.
Thank you, Lord, for blessing me with a joyful heart and open mind.
Gratitude. Humility. Changing my mind. And it shows.