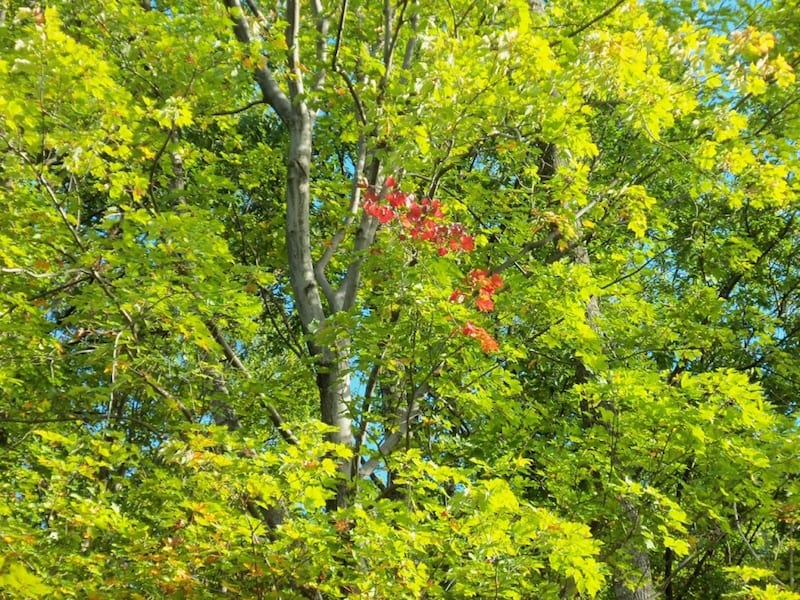 Every year at Vanaprastha, autumn creeps down the Blue Ridge Mountains into the Rockfish Valley. Typically, some trees' leaves change ahead of the curve. In the case of the maple in back of our house, part of the tree got a head start.
Nature's seasons are like a theme with variations.
I've written previously about the Hindu stages of life: student (brahmacari), householder (grihastha), hermit (vanaprastha) and mendicant (sannyasi). And I'm certainly not the first to correlate the seasons – spring, summer, fall and winter – with life stages. Think of Ecclesiastes 3:1 and the last stanza of "It Was A Very Good Year," written by Ervin Drake in 1961:
But now the days are short, I'm in the autumn of my years
And I think of my life as vintage wine
From fine old kegs
From the brim to the dregs
It poured sweet and clear
It was a very good year.
Frank Sinatra recorded that song at age 50, not quite in the autumn of his life. But I am. Some of my age-group friends continue active work in their professions, extending their summer years. Others have moved into retirement in various ways – starting new careers, travelling, visiting family and friends, pursuing hobbies, volunteering, doing projects and taking courses.
Life's seasons are like a theme with variations.
Unlike the musical form, where the theme or main melody is stated followed by one or more variations of that melody, in life and nature, theme is expressed through variations. And the combinations are infinite.
Every moment, our mountain views shift with sunlight, clouds, wind and other variants. The leaves on the maple tree in back now tint red, yellow, and brown. Some carpet the ground.
Lives change, ahead or behind the curve, and time moves forward.
As Nature and I prepare for winter, I think of life as vintage wine. From brim to dregs, it pours sweet and clear.
It is a very good year.