"I used to think people were looking at me when I walked into a room," my son David said during his visit this past weekend. "But people weren't really paying attention to me; they were thinking about themselves like I was. People like to talk about themselves, too. Knowing that, I can relax, ask questions of others and enjoy them."
David thought and acted like a professional.
In The Active Life Parker Palmer wrote, "At root, a professional is one who makes a profession of faith – faith in something larger and wiser than his or her own power… the true professional is a person whose action points beyond his or her self to that underlying reality, that hidden wholeness, on which we all can rely… "
Before we can rely on 'that hidden wholeness', we need to make a profession of faith to something larger than our selves. Richard Rohr calls these underlying realities the five difficult truths.
1. Life is hard. 2. You are not that important. 3. Your life is not about you. 4. You are not in control. 5. You are going to die.
Knowing these realities, we can act on their upsides. Life is rewarding when done well. Your actions are important. Your life is about something larger than you. You control your actions. Your death is interconnected with the wholeness of life. "If ya gotta exit, it's extremely fine to see some coming in the entrance," my father wrote about his grandchildren – all children.
"The true professional is one who does not obscure," Palmer wrote, "…with illusions of technical prowess, but one who strips away all illusions to reveal a reliable truth in which the human heart can rest."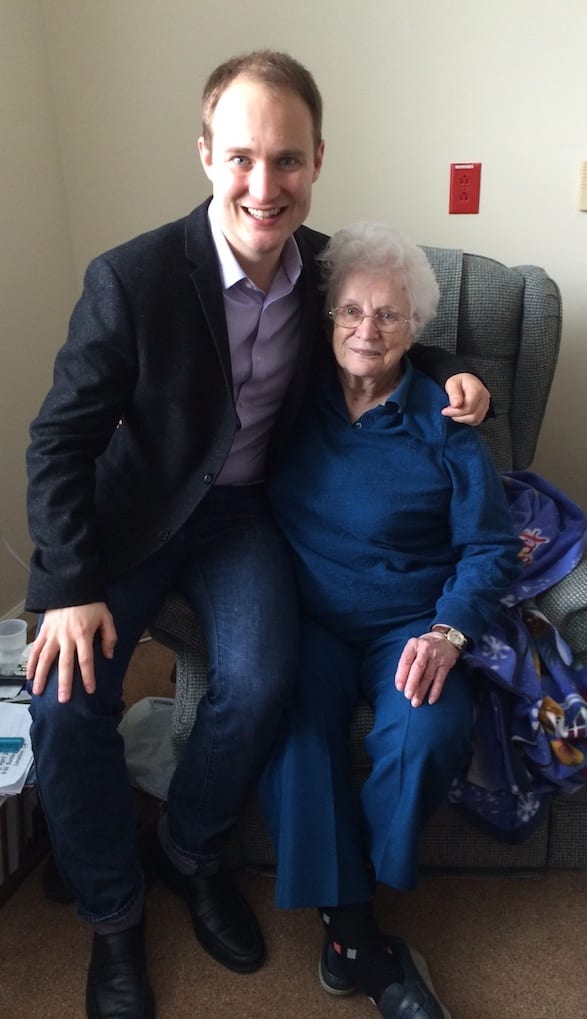 On Saturday, David visited Grandma. He walked into her room not thinking about himself and his technical prowess as a business consultant but as one who loves his grandmother. She greeted him not thinking about herself and her status as an accomplished, veteran schoolteacher but as one who loves her grandson.
They relaxed, asked questions and enjoyed one another.