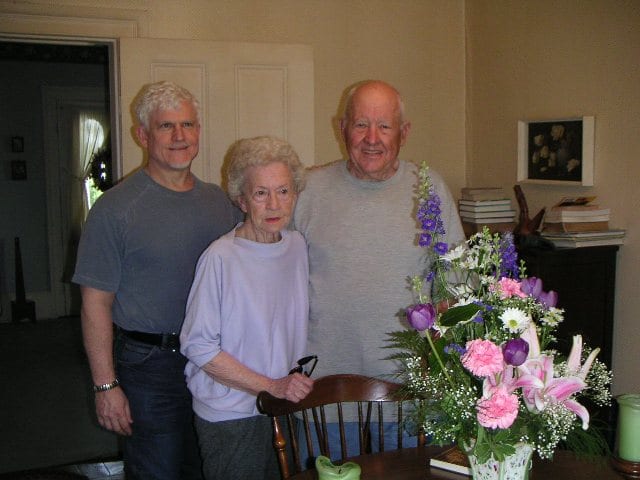 The first time I met Big Ed, he was standing in the high-ceilinged front room of his home, an old plantation turned Victorian farmhouse in southern Virginia. A bear of a man, he turned my nice-to-meet-you handshake into a warm hug. Keith had told his parents that I was "the one," but I don't think it would have mattered. Big Ed was a bear-hug-giving guy, always cheerful and sociable. I smelled his aftershave as he kissed my cheek, and then Dad grabbed Keith, his eldest son and my soon-to-be-fiancé, and they did the guy, pat-on-the-back kind of bear hug. In 2003, it was the 60th wedding anniversary celebration for Phyllis and Big Ed – Mom and Dad I eventually called them.
Big Ed, aka The Colonel, served in WWII, Korea and Vietnam as a fighter pilot and Air Force officer. He and his family lived in Detroit then Arizona, Okinawa, Upper Michigan, Colorado and Alexandria, Virginia when Dad was stationed at the Pentagon – and the family moved two more times, Massachusetts and Texas, before retirement.
The Bendix Race win in 1954, Dad said, was his most recognized success, but he gave credit to his ground crew and talked more about 'the pilot training pipeline,' which knocked the cost of training down several $100K/person and his safety record. Dad excelled in teaching and training of pilots, and he brought his work home. Keith remembered growing up with Dad screening 16mm navigator and survival films at the dinner table instead of TV shows. Didn't everyone?
A natural storyteller, Dad wrote and published some but never finished his memoirs. Keith has Dad's story drafts, for they often talked about writing them. The tales were sometimes humorous and always about people coping with situations, writing letters home, not really about war. How Dad loved people, especially his family.
Dad and Mom had six children, and to Dad, 'the kids' came first. Even after Keith became a senior citizen, Dad would call him, "young man." Dad once told Keith that the hardest times in his life were not his plane crash in WWII or the loss of so many friends, but his children's illnesses, especially when Keith contracted polio at age 2.
After Mom died in 2006, Dad continued the family traditions: Christmases filled with presents, birthday celebrations, Easter baskets and popping the cork on a champagne bottle and watching the ball drop on New Years Eve. Dad had good ideas for gifts, sometimes the same good idea several times for one occasion, and he loved a 'good deal' whether the product worked or not. He was always up for trying something new – "Sure, why not," he'd say with a grin.
Big Ed knew that he wasn't getting better in the past couple of months, and that this hospitalization would probably be his last, and it was. I will miss Dad's bear hugs, the smell of his aftershave and his stories, which I've heard so many times, always prefaced with, "Carole, I don't know if I've told you this before, but you'll really like it."
And I always did because I really loved you, Dad.