As an adolescent growing up in New England, I remember worrying about the possibility of snow for Halloween. How would we trick-or-treat in our rural neighborhood and hang out with the Snyder boys who just moved into the house on Meadowbrook? How would I earn two quarters for UNICEF if I couldn't rake old Mrs. Russell's leaves on the big lawn? Some of the world's children would go without milk because my donation would be less for those quarters. My heart sank as I imagined the sound of my UNICEF carton's lightweight jangle next to the heavyweight kids'. Worse, a disaster like snow would cause Huge Adjustments to The Costume and might trigger An Identity Crisis. Who am I? What am I going to be? Ack, it's all too much! Snow any other time of year just not in October.
Nor'easters no matter what time of year seem to take almost everyone by surprise. One day when I was in high school, a storm came up so fast that school administrators did something unprecedented. In the middle of the day, they closed school. With several inches of snow already on the ground and buses off schedule, nothing happened according to the usual dismissal plan. Instead of waiting outside, we all milled around the foyer asking each other "What's going on? Has the bus come yet? Have you seen it? Is it parked in the usual spot?" Buses arrived willy-nilly and left with only a few students aboard. I wasn't one of them. Stranded kids like me got in line to use the office phone to call their mothers for a ride home.
"How could you miss the bus!?! Didn't you listen when they called your bus number? Meg Taffel rode the bus home, why didn't you?" Meg's mother was my mother's best friend, and Mrs. Taffel's children were perfect.
Mother's fury trumped the storm and for once I was glad because her gumption was the only way we made it home through the two-foot drifts. But as the rest of the neighborhood piled into the car, I did hope that my mother noticed that I wasn't the only one who had missed the bus. I didn't blame Meg Taffel for my lack of measuring up that day. She seemed like a nice person and pretty much kept to herself in high school. I just got caught up in the excitement of something unexpected and the awesome beauty of a perfect storm.
This weekend, when we woke up to ice on the deck at Vanaprastha, I had the same "snow before Halloween" feelings: It's too soon. I'm not ready. And then we saw snow frosting the mountaintops across the Rockfish Valley. There is nothing more beautiful on earth than this moment.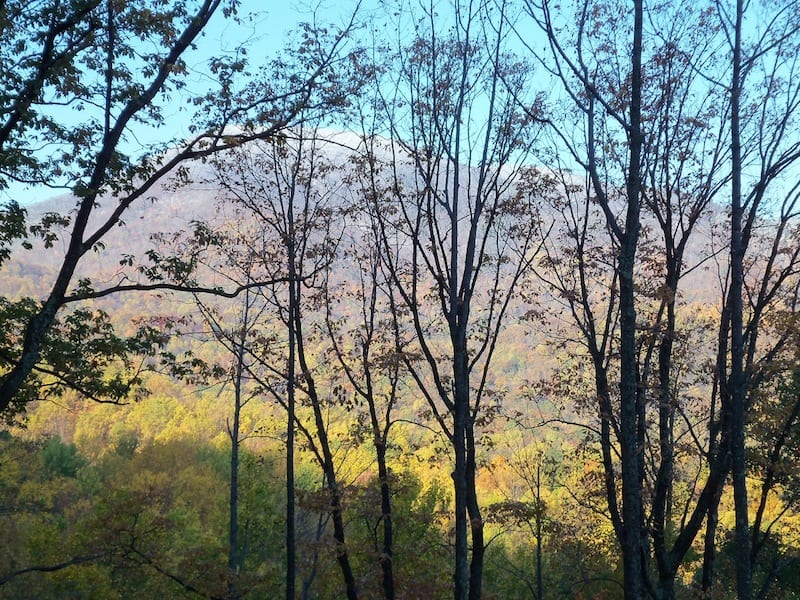 I don't know what the piece is really about. Do you?